ENDED - Can't-Wait Willow by Christy Ziglar
Children's Book Review and Giveaway
October 26, 2013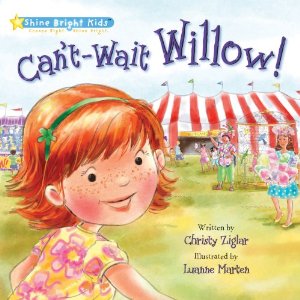 Disclaimer: I received this book at no charge for this review. No other compensation was received and all opinions are my own.
About Can't-Wait Willow:
"Willow is so excited that the Over-the-Top Circus has finally come to town! The only problem is that when left to her own devices, she can't say "no" to some good things. On the way to the show, she is distracted by enticing treats and fun that she just can't turn down. Willow arrives late and is sad to find that, not only has she run out of time, but money as well, and she won't be able to enjoy the pink cotton candy she has been dreaming of. Willow is given valuable advice and a second chance and is ultimately taught the lesson that sometimes in life you have to say "no" to good things to end up with something great!"
About the Author:
Christy Ziglar, financial planner, mother of twins and niece of legendary motivator and the world's original optimist, Zig Ziglar, is bringing the same timeless wisdom and ageless advice to an entirely new, younger audience through her new Shine Bright Kids picture book series.
About Shine Bright Kids:
The Shine Bright Kids series provides children and their families with a relevant framework to help instill solid values and teach the importance of making good choices. The series teaches principles including: using good judgment, taking responsibility, self-control, having a positive attitude, and demonstrating perseverance. Check out their website at ShineBrightKids.com for free reward charts, activities and other parenting resources.
Review:
Can't-Wait Willow has been selected as one of "Most Beloved Bedtime Stories" by Red Tricyle's 2013 Totally Awesome Awards and I can see why. A good read any time of day, this story is a nice teaching to our kids (and a reminder to us adults) about patience, making good choices and getting second chances. We love books that help teach our children the many lessons they have to learn. This one is lovely! The illustrator, Luanne Marten captures the cute and bubbly personality of Willow beautifully, offering bright colors and adorable scenes. This book also offers a star search, where a star appears on each page depicting the mood of Willow's actions, a cute addition to the storyline and something my kids enjoy searching for over and over.
Find Can't-Wait Willow at Barnes & Noble and other retailers: Buy Can't-Wait Willow

"Sometimes you've got to say 'no' to the good, so you can 'yes' to the best."--Zig Ziglar
Stay connected with Shine Bright Kids:
&nbsp&nbsp&nbsp&nbspShine Bright Kids website
&nbsp&nbsp&nbsp&nbspShine Bright Kids on Facebook
&nbsp&nbsp&nbsp&nbspShine Bright Kid on Twitter
&nbsp&nbsp&nbsp&nbspShine Bright Kid on Pinterest

Giveaway:

Enter the Rafflecopter form below for your chance to win this adorable book - US only, 18+. GOOD LUCK!!!
a Rafflecopter giveaway
Thank you for visiting.
blog comments powered by

Disqus
FOLLOW ME:
---
PROUD MEMBER:
---