Review: Hello Fresh - Food Subscription Box
December 26, 2013

Do you like food shopping? I know some people do, I am not one of them. I just always seem to be food shopping, so what a treat it was to receive a well packed goodie box filled with fresh meat and produce and well planned recipe cards for three delicious meals to try from Hello Fresh. more...
---
Fun Gift Idea: Portable North Pole - A Message from Santa
December 5, 2013

My two young kids really enjoyed watching their very own personalized message from Santa this year to see if they made the naughty or nice list! Enjoy this fun gift idea with your kids too (or adults), directly from Santa himself and the Portable North Pole. This online fun gift idea personalizes videos with pictures of your child and personal details provided by you. more...
---
Holiday Cards with Cardstore.com #TopoftheMantel #MC #Sponsored
December 3, 2013

Every year we like to send personalized photo cards to our friends and family. The hard part for me is choosing which photos to use, once selected, I like to use online sites like Cardstore.com with their many card selections to choose from and easy to navigate site. more...
---
Holiday Gift Guide - Me & The Girls Beauty
November 12, 2013

My favorite organic skin care line would make a great gift this season for any lady on your list! With many options to choose from, including great stocking stuffers, you can't go wrong! I will be forever grateful to Me & The Girls skin care products for the much needed push back into taking care of my skin I needed and results are instant! more...
---
Climb Aboard The Train to Christmas Town at the Cape Cod Central Railroad
November 6, 2013

This holiday season, fall in love with the heartwarming tale of Janice, a little girl who looks forward to riding the Train to Christmas Town every year with her brother and Grandmother. This year is a little different though, as readers of the story already know. Accompanied by a bag full of surprises, woodland friends and jolly elves, Janice relives happy memories as she rides the train to Christmas Town once again. more...
---
13 Year Old Philanthropist Launches Global Campaign for Vision For and From Children
November 5, 2013

Did you know that an estimated 19 million children worldwide are visually impaired, and of those affected, 12 million have conditions that could easily be diagnosed and corrected? Lillian Pravda, an inspirational young lady born with a cataract, founded Vision For and From Children at the age of eight. more...
---
ENDED - Can't Wait Willow by Christy Ziglar
Children's Book Review and Giveaway
October 26, 2013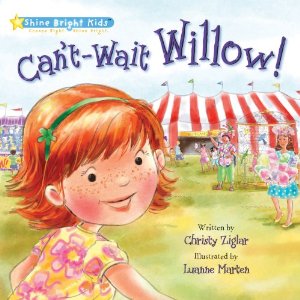 Willow is so excited that the Over-the-Top Circus has finally come to town! The only problem is, that when left to her own devices, she can't say "no" to some good things. On the way to the show, she is distracted by enticing treats and fun that she just can't turn down. more...
---
Ultimate Party Meatballs Recipe
October 22, 2013

We are always eager to try new easy recipes, so when I read about the Ultimate Party Meatball Recipe, I knew we had to give this one a try! With only three ingredients, how simple and pleasing could this recipe be for a quick snack, appetizer, or main course. Perfect for holidays, get togethers, tailgaiting and more. more...
---
ENDED - Audrey Bunny by Angie Smith - Children's Book Review and Giveaway
October 8, 2013

From best-selling women's author Angie Smith comes this sweet children's book about a stuffed animal named Audrey Bunny who fears her imperfections make her unworthy of a little girl's love. She'll learn the truth soon enough, and young readers will learn that everyone is special and wonderfully made by God. more...
---
ENDED - The Mommy MD Guide to Pregnancy and Birth Book Giveaway
September 23, 2013

Pregnancy is such a magical experience that while it may be different for each woman, and even each time, we can all benefit from the many tips and tricks woman before us have experienced and kindly share, and what could be better than Mums who are also medical doctors that share their tips. more...
---
ENDED - Bash and the Pirate Pig Book Giveaway
September 13, 2013

Bash and the Pirate Pig, by Burton Cole, is a story about a cranky city kid named Raymond "Beamer" Boxby who has to spend his summer vacation with his younger cousin Bash out in the country on his farm. Beamer is not too happy about this as he prefers to play video games all day inside where it is cool. more...
---
Recess Monkey: Desert Island Disc
September 10, 2013

My ears have really been opened lately to a new musical genre for me: The family friendly genre and it is superb. This genre is so creative, sometimes even educational and most definitely a whole lot of FUN! I have recently been enjoying a new CD by Recess Monkey called: Desert Island Disc, their 10th CD to date.more...
---
ENDED - Grace Unplugged the Novel and Own It Book Giveaway
September 5, 2013

After realizing that she wants to break free from the family church band, Grace Trey, at the tender age of eighteen, jumps at the opportunity of a lifetime. Leaving her parents and life behind her in Birmingham, Alabama, she heads for Hollywood, where she learns all about life as a musician. Faced with many life choices, will she choose stardom or own her Christian faith? more...
---
Influenster: The Good Life VoxBox #GoodVoxBox
August 30, 2013

Ah, the good life. Everything about it sounds good! How do you get it? Influenster thinks it's in our actions. What do you think? I was a lucky recipient of Influenster's The Good Life VoxBox that they put together to support our pursuit in finding The Good Life. Included were the following products to help us get on the way: more...
---
Josh & the Jamtones: Bear Hunt
August 26, 2013

Josh & the Jamtones, a local Boston based kindie rock band have been entertaining kids and their families with their interactive dance party shows, guaranteed to get us all singing and shaking, clapping and stomping. They have played some of our big local spots including the Life is Good Festival, Boston's Earthfest and Fenway Park to name a few. more...
---
An Interview with the Beauty Behind the Beauty Line:
Me & The Girls - Sharon Hackney-Robinson
August 21, 2013

One year ago this month, I sampled a few products from Me and the Girls beneficial organic beauty line and fell in love. The aromas are fresh, inviting and heavenly with hints of spearmint and tea tree oil. Ideal for wet skin, I noticed instant improvements to the look and feel of my moisture craving skin and treasure their gorgeous signature bag with a mix of glorious goodies. more...
---
ENDED - King Richard's Faire Ticket Giveaway
August 20, 2013

The annual King Richard's Faire is celebrating thirty-two years this year starting weekends August 31st through October 20th, 2013 (Including Labor Day Monday, Sept. 2nd and Columbus Day Monday, Oct. 14th) Located at 235 Main Street in Carver, MA. Gates open at 10:30am and close at 6:00pm. Although I have heard of this fun festival for years now, I have yet to enjoy the 80-acre site. more...
---
Justin Roberts and the Not Ready for Naptime Players are coming to The Center for Arts in Natick October 12th, 2013
August 14, 2013

Grammy nominated Justin Roberts and the Not Ready for Naptime Players are coming back to Massachusetts in October. Grab your kids and join me and mine at The Center for Arts in Natick for a fun filled family concert of brilliant upbeat songs and ballads that are so much fun and enjoyable you will encourage your children to learn the words. more...
---
Donkey Kong Country DVD Review
August 12, 2013

Our favorite 80s video game ape: Donkey Kong is coming to DVD for the first time on August 20th, 2013 with Donkey Kong Country. Enjoy 90 minutes of four continuous classic episodes in CGI animation of Donkey Kong and his side kick Diddy Kong as they try to get back the Crystal Coconut that was sneakily stolen by King K Rool. more...
---
Book Review: Hank Finds An Egg by Rebecca Dudley
August 5, 2013

In this adorable and creative children's picture book, Hank finds an egg on the forest floor and tries to return it to its rightful place. Trying and failing, but never giving up, this determined monkey will be the one pleasantly surprised by his gentle act of kindness. Follow along as each picture depicts a playful and kind story, you the reader explain yourself. more...
---
Veria ID Utterly Quenched Hand & Body Lotion Review
July 23, 2013

I love finding new brands and thanks to Vitacost, I recently tried a new line of natural skincare called Veria ID. Veria ID is based on the principles of ayurveda. Ayurveda is a 5,000 year old plant-based healing tradition from India. It is based on the idea that health and wellness comes from balance and that if you're not balanced inside, it shows up on the outside, on our skin, our hair, and our energy levels. more...
---
Puffs Fresh Faces - Saline Tissue for Adults
July 16, 2013

Around eighteen months ago I signed up to introduce Boogie Wipes to individuals in my community by telling them about the product, where they can be purchased and provide them with samples and coupons. It was a time I finally appreciated small talk, to chat to other parents at the park, the pediatrician, and standing in line. I have two young ones so usually a boogie wipe is needed at some time, so a segue way comes easy. more...
---
ENDED - Dr. Lee's UGLee Ergonomic Pen Review and Giveaway
July 9, 2013

The only thing better than sending hand written notes or cards is receiving them. Forgive me my selfishness, but I love getting hand written snail mail! So I try to send them often myself and I have noticed that the pen really contributes to how neat and tidy my writing will be and once I find a pen I like, I am sticking with it! more...
---
Olay Fresh Effects BB Cream Review #SunVoxBox
July 3, 2013

Olay has come out with an all-in-one solution to instantly brighten skin. This cream will make skin smoother and even out skin tone all while providing 24-hour hydration. This tinted moisturizer blends easily and helps hide red spots and little imperfections minimizing the need for concealer or foundation, which is especially a plus in these warmer months. more...
---
Guest Post: Fun Summer Adult Treats With Hamilton Beach
July 2, 2013

Add some sparkle to your summer picnics and gatherings with these tasty summer beverages that pack a kick of their own. So slip on the flip flops, stir up some of these cool refreshing drinks step out on the veranda and enjoy! Summertime White Sangria: This perfect for summertime sangria is light and refreshing. more...
---
ENDED - Enter to Win a New Product From "me & the girls" Online Beauty Boutique
June 21, 2013

Back in August of last year, I received the most adorable gift set from me & the girls online beauty boutique, this gorgeous gift set incorporated a kit of their top selling products which included a: body scrub, softening creme, foot scrub, anti-aging night facial moisturizer, beauty serum, a bamboo spoon and their gorgeous signature travel bag. It is like a complete spa treatment in a bag. more...
---
Family Movie Night with The Berenstain Bears: Golden Brother Edition and Golden Sister Edition DVD's with Plush Doll
June 19, 2013

Continuing with their celebration of their 50th anniversary and featured at our family movie night, The Berenstain Bears are back again with great gift ideas with individual gift sets for Sister Bear and Brother Bear featuring a 10 inch plush doll of each with your limited edition DVD sets available exclusively at Walmart and Sam's Club. more...
---
Noxicare Vitamin B-12 Supplements
June 13, 2013

I thought Noxicare was all about Natural Pain Relief. It turns out they have quite a selection of supplements too. I recently tried their Vitamin B-12. A supplement I like for its many benefits; B-12 helps our bodies convert food into energy, is good for red blood cell formation, and is important for cardiovascular health and nerve problems, such as numbness and tingling in the hands and feet. more...
---
Clinique's NEW Moisture Surge CC Cream Hydrating Colour Corrector Broad Spectrum With SPF 30
June 8, 2013

Since my teenage years I have been a fan of Clinique products, although quite a splurge, a fun one I treat myself to now and again! A few favorites are the rinse off solvent for easy mascara removal and their famous yellow Dramatically Different Moisturizing Lotion for gentle softness for my face. more...
---
Boston Sailing on the Adirondack III
June 4, 2013

It was over 90 degrees in Boston this past Saturday, but you never would have known it onboard the Adirondack III. This gorgeous vessel features teak decks, mahogany-trimmings, and just under 2,000 square feet of canvas which guided us beautifully through Boston's historic harbor! more...
---
The Fast Metabolism Diet Book Review
May 17, 2013

The Fast Metabolism Diet claims to help you lose 20 pounds in 28 days. That is quite a lot of loss for a little time but it has been done by many and although I do not need to lose that much, a few pounds would be welcome and learning why this diet has helped so many is the reason why I signed up for this campaign. Dieting should be a way of life, not a thing you do here and there and the tips in this book are priceless, along with some fabulous recipes more...
---
Boston Sailing Cruise with Classic Harbor Line
May 15, 2013

Nothing quite beats a small cruise on a nice warm day. Living close to Boston, this is something we can do very easily. Whether in your own city, or visiting another, it is a fun activity to do as a date or with the whole family and a great way to see a city. Thanks to USFG, I recently learned about a local company that provides day sails as well as nights on a beautiful Schooner Adirondack III. more...
---
Shake It Up: I <3 Dance Review
May 14, 2013

"Shake It Up" is the #1 live-action TV series in its time period among Kids 2-11 and Kids 6-11. The show chronicles the adventures of best friends CeCe (Bella Thorne) and Rocky (Zendaya), whose dreams of becoming professional dancers are realized when they land roles as background dancers on the most popular teen dance show, "Shake It Up, Chicago!" more...
---
The Wummel Box Subscription Service Review
May 9, 2013

We received the Wummel Box to review and wanted to share with you this new subscription arts & crafts service for kids ages 3-8. The Wummel Box originated in Berlin. This European-style arts & crafts subscription service is designed to inspire learning, creativity and exploration. It comes with all the materials you will need for hours of hands on fun to do with your children, including great instruction booklets. more...
---
CD Review: Time by Rod Stewart
May 7, 2013

Rod Stewart started his music career over forty years ago now and today, May 7th marks his first album release of new material in almost 20 years. "Time" marks Stewart's long-awaited return to his songwriting roots and features 12 tracks, 11 of which he wrote and produced himself. The album was born from a burst of inspiration that came while Rod was reviewing his life for his recent memoir. more...
---
Book Review: House on Plunkett Street by Lorena Bathey
May 1, 2013

The story starts out with "boring, bland and unexciting" Phoebe who was just coasting through life, trying not to interrupt anyone around her, when finally, circumstance has her looking for a new job and a new home. After moving in to the House on Plunkett Street, her life changed forever. Phoebe felt it from the start, this house was special, it felt like a very loved and happy home. more...
---
Soft Scrub Mold & Mildew Stain Remover Review with Product Coupon Giveaway and Sweepstakes - Ends 5/14
April 30, 2013

I was quite happy with myself when I could not find any place to try the new Soft Scrub Mold & Mildew Stain Remover I received as being a Purex Insider. Made for bathrooms, this powerful product comes in a gel, so there is no overspray to deal with, it sticks to surfaces easily for better cleaning and is ideal for tile, grout, tubs and showers. more...
---
The Berenstain Bears 50th Anniversary DVD Collection Review
April 19, 2013

Celebrating their 50th anniversary, The Berenstain Bears are back with a three disc DVD collection, starring Michael Cera as Brother Bear. This DVD collection from Kaboom and Phase 4 Films include 15 episodes of our favorite bear family, with five episodes on each DVD, each with their own theme: Bear Country, Celebrations and Homework Help. more...
---
MVP and MVP 2 DVD Reviews
April 19, 2013

Have you heard about MVP and MVP 2 DVD's? We had not heard about the Most Valuable Primate or the Most Vertical Primate 2. Jack, this talented, fun loving primate is quite the star. Able to skate, play hockey, dress himself, among many other things, he will have you loving him and cheering for him from the very start! more...
---
Everest Nutrition Krill Oil Dietary Supplement Review
April 18, 2013

What are krill? Krill are shrimp-like crustaceans that are approximately 1 to 6 centimeters long. They are used for aquarium feeds, sport fishing bait and eaten as food. Krill oil, the oil that is found naturally in krill, is extracted and sold as a nutritional supplement. more...
---
Book Review: The X by Lorena Bathey
April 17, 2013

I love a book you can pick up, get interested in immediately and finish it in a weekend. Of course you do not get much else done but what an enjoyment. The X by Lorena Bathey was such a book, it grabbed my attention from the start and kept me interested all the way through to the end! more...
---
Book Club: Mistress of My Fate by Hallie Rubenhold
April 10, 2013

Mistress of My Fate is the first book in a trilogy about Henrietta Lightfoot, a young woman, who was abandoned as a young child and raised alongside her privileged cousins, who she adores. When at the tender age of seventeen, sadness and circumstance make her depart this lifestyle abruptly to start anew and to fend for herself for the first time on the streets of 18th century London. more...
---
ENDED - Soft Scrub's 4-in-1 Toilet Care Review with Product Coupon Giveaway and Sweepstakes
April 9, 2013

Let's face it, we all love a clean toilet, but getting it there is a whole other story. I usually shy away from unsightly rim hangers, but I thought I would give them one more try with Soft Scrub's 4-in-1 Toilet Care. It cleans, prevents future buildup, fights toilet ring, and freshens for up to 4 weeks with a cost of less than $4. more...
---
Book Club: Spontaneous Happiness by Dr. Andrew Weil
March 20, 2013

We all seek to find it, or be it. Happiness. It is something to be desired. It can seem unreachable for some and more difficult at certain times for others. Did you know: millions and millions of people are diagnosed with depression at some point in their life? Sometimes it is only for a time, but so is life. Wouldn't you like to know how you can help yourself find happiness? more...
---
REEBOK 15% Off Sale
March 15, 2013

With the weather starting to heat up, it's time to get a new pair of running shoes for spring training...or in my case, more like spring walking... Either way, Reebok has the perfect 15% off sale to let me buy the new pair of shoes I've been eyeing, not to mention free shipping!! The best part is Reebok doesn't just do shoes, they have fantastic apparel too! more...
---
PAAS Easter Egg Dyeing Kits and FREE Easter Egg Decorator App
March 13, 2013

Easter is just around the corner and one of my daughter's favorite activities is dyeing eggs. PAAS makes dyeing and decorating eggs a lot of fun with their fantastic kits. A few new ones out this year include the following: Volcano Eggsplosion: a kit that uses melted crayon shavings to provide instant color; Deggorating Doodles: includes four food grade markers to use right on the egg shell; and Touch of Velvet more...
---
Dial Coconut Water Body Wash Review, Sweepstakes and Giveaway
March 12, 2013

We have all heard how coconut water is good for our insides, now thanks to Dial, we get to enjoy its many benefits in a body wash too! New Dial Coconut Water Body Wash is the first of its kind to contain coconut water for clean, healthy, hydrated skin. With fresh hints of green, floral and coconut, it will whisk your mind away to a faraway tropical island right in the privacy of your own shower.more...
---
Horrid Henry: The Movie
March 9, 2013

Now my children are old enough to sit for a few hours, Saturday night has become our family movie night date. The kids get to stay up an hour later to enjoy some popcorn, chocolates and a fun family movie! Our latest movie for movie night was Horrid Henry: The Movie. more...
---
Starlooks Starbox: February Special Edition Presents Lauren Clark
February 25, 2013

We have quite a few choices when it comes to monthly subscription boxes. I have been enjoying sampling a few. I recently came across Starlooks Starbox. Starlooks Starbox is all about make-up and beauty products and what woman does not love trying and playing with new make-up and beauty products. I know I do! more...
---
ENDED - Breakfast with Honey Bunches of Oats PLUS a Sweepstakes and Product Coupon Giveaway
February 22, 2013

My favorite thing about cereal is their versatility: they are great for breakfast, as a quick snack or a late night treat; they can be enjoyed at your dining table, breakfast nook or on the go in the car, at the park and especially at Grandma's. We recently tried Honey Bunches of Oats Tropical Blends and enjoyed the crispy mango flakes combined with real coconut shavings and granola clusters. more...
---
Stocking up on Essentials at Vitacost.com
February 19, 2013

We all love our many modern conveniences. One of my favorites is online shopping, especially for things that we use all the time. It is very convenient for me to stock up online and have it delivered right to my door. This modern convenience has saved me a lot of time and hassle, especially now I have two young kids. more...
---
ENDED - NEW Dry Idea AdvancedDry® Fresh Brand Antiperspirant and Deodorant Review, Sweepstakes and Giveaway
February 12, 2013

Dry Idea has a new product they are excited about! Their new Dry Idea AdvancedDry Fresh brand antiperspirant and deodorant offers superior odor protection that lasts for 72 hours with Pulse Activated Wetness Protection. New Dry Idea AdvancedDry Fresh brand antiperspirant and deodorant keeps you feeling clean and confident all day long. more...
---
L'Oréal Paris Magic Skin Beautifier BB Cream Review
January 31, 2013

BB creams are the latest innovation from Asia and have become a worldwide sensation. "Beauty Balms," or BB creams were originally created to smooth and correct skin after derm procedures. I recently started using L'Oréal Paris Magic Skin Beautifier BB Cream and love the lightweight coverage. more...
---
Colortime Crafts and Markers Review
January 21, 2013

Back in November, I told you about Colortime.com - a website that offers fun coloring crafts on pillow cases, t-shirts, back packs, bandanas, tote bags and more. Great craft ideas for many occasions. My five year old daughter and I enjoyed coloring the pillow case pictured above. It came with three non toxic fabric markers that enabled us to make a few more color choices more...
---
New Palmolive Dish Soap: Fresh Infusions
January 18, 2013

My hands are forever washing dishes, no dishwasher for me yet, so I take my dish soap seriously. It has to smell nice, produce enough bubbles and be kind to my aging skin! Palmolive Fresh Infusions does all that with a choice of three naturally inspired fragrances: Ginger White Tea, Lemon Thyme, and Lime Basil. more...
---
Zatarain's Big Game Cravebox #cravebowl
January 15, 2013

Are you ready for the Big Game? How would you like to win the best spread ever to serve to your guests? One lucky winner will receive everything you see in the picture above - Entering is easy: Just sign up to receive this month's Cravebox. If you are new to Cravebox, first register to start. more...
---
ENDED - Mommy MD Guide Books Review and Giveaway
January 14, 2013

When I first found out I was pregnant, pure elation set in first, then a little bit of disbelief, then a little bit of panic. I knew nothing about babies, except maybe that they did not tell you their needs very well and kept most parents up all night. I armed myself with a few good go-to guide books and read bits whenever I could. more...
---